I don't race often these days, but when I do, I try to chose events I would remember for a long time!
Last year, I raced Challenge Roth in Germany: an ironman-distance race in a spectacular setting, amazing atmosphere and memories to last a life-time. The race didn't go as planned, but I enjoyed it nonetheless (you can read more about my day here).
This year, I opted for a shorter half-ironman race: Ironman 70.3 Haugesund in beautiful Norway. The race took place on July 6.
In this race report:
The build-up to the race
Description of the course
My nutrition strategy
My race strategy
The "race"
Lessons learned
Some photos from post-race Norway excursion
Detailed race analysis (bike only)
The build-up to the race
I only race one international race a year now. I wish I could race more, but family and career commitments mean that I have very limited time to train properly for multiple races. Of course this means that if the race doesn't go well, I have to wait another year before I get another chance at redemption, but c'est la vie...
I flew to Norway on Thursday on KLM via Amsterdam, landing in Stavanger on the east coast of Norway. As the KLM "cityhopper" started descending towards Stavanger airport, I was clicking away on my phone like a crazy person, taking pictures of stunning fjords and sea-side cliffs as far as the eye can see.
I also had the pleasure of team-mate Tansy as travel companion: Haugesund 70.3 was going to be Tansy's first half-Ironman, so it was good to fly together and discuss the approach to the race: strategy, nutrition, equipment, etc.
Our "third musketeer" Megan (also her first half-Ironman) opted to fly with Emirates and was going to meet us in Haugesund on Friday, along with her husband Shane (also racing).
So after 2 flights, a long drive, a ferry, and another long drive, we made it to Haugesund by Thursday afternoon. We would have arrived sooner except that driving in Norway means stopping every 10km to take more stunning pictures of the land of the Vikings...
As I said, we took tons of photos, here are some of the best ones...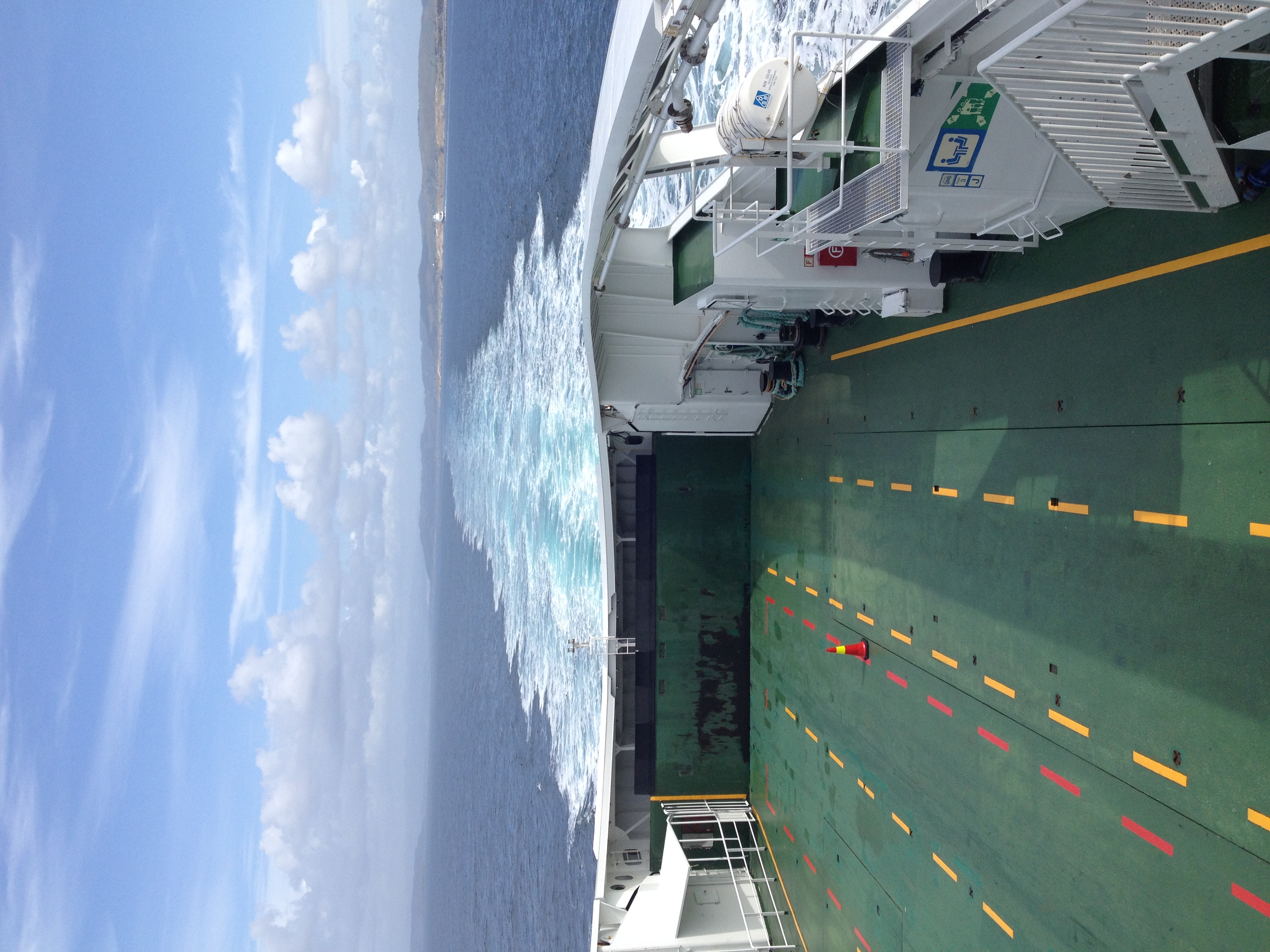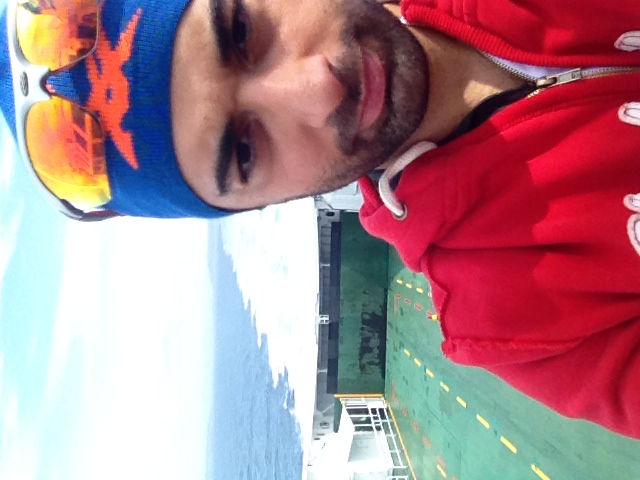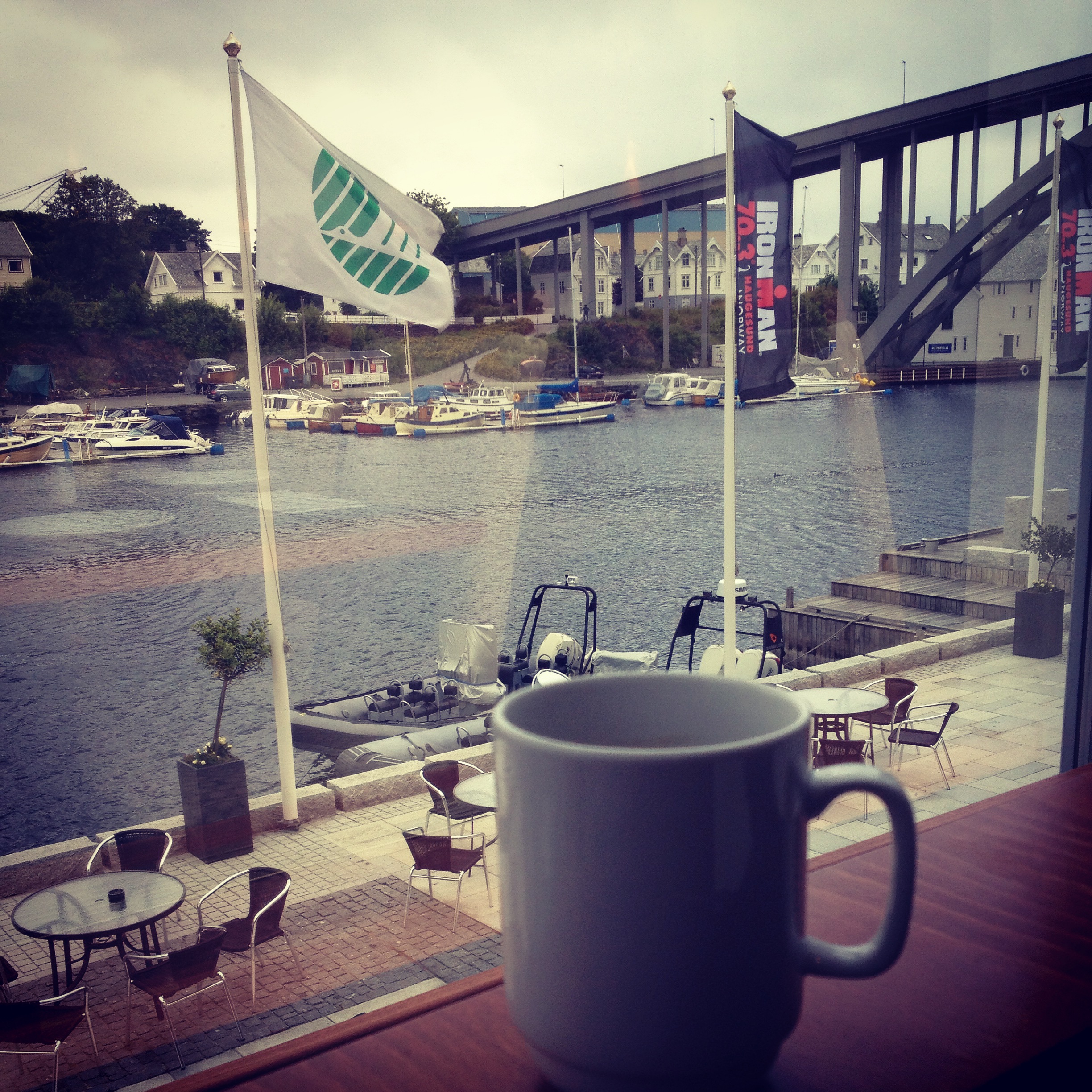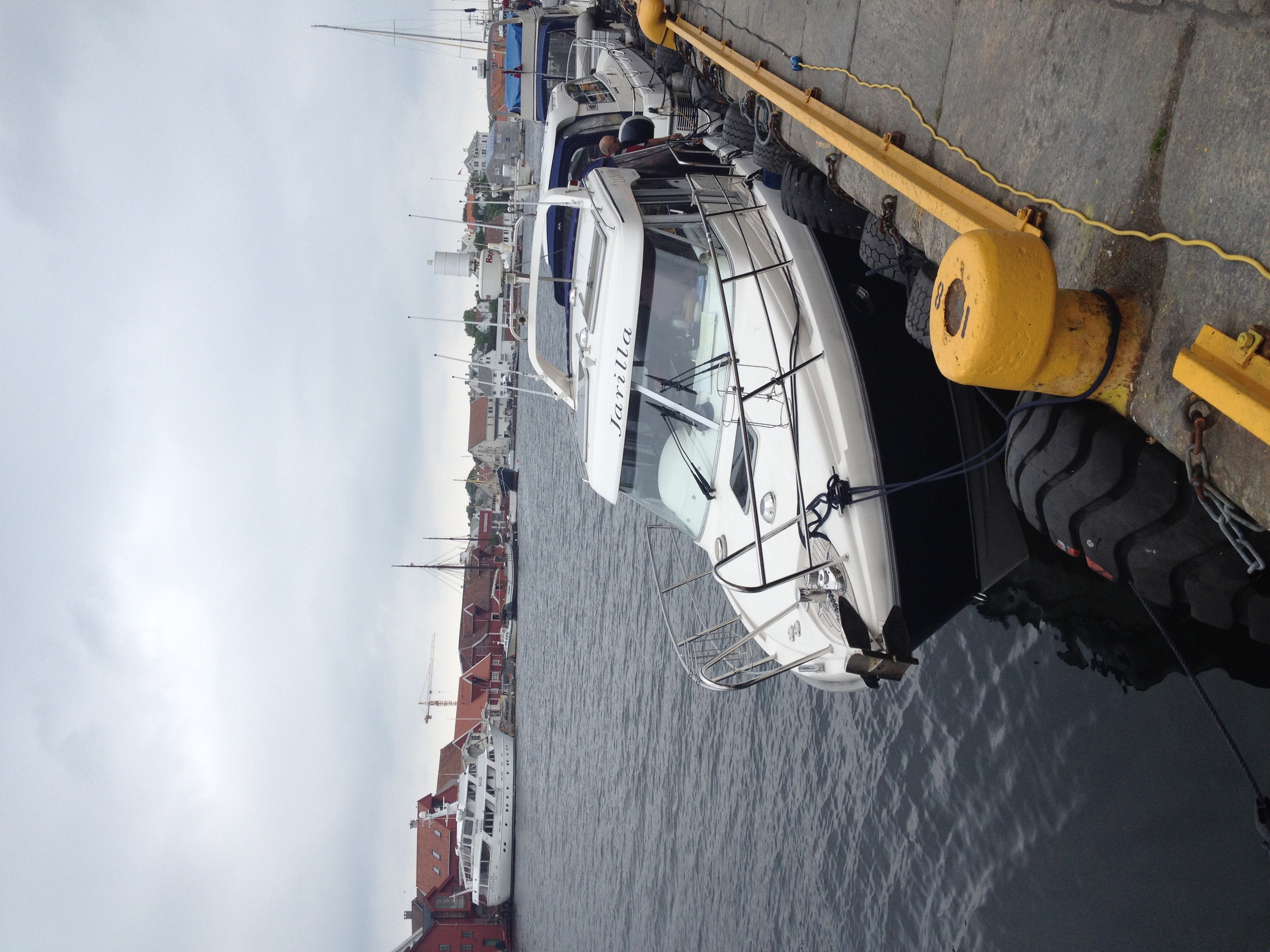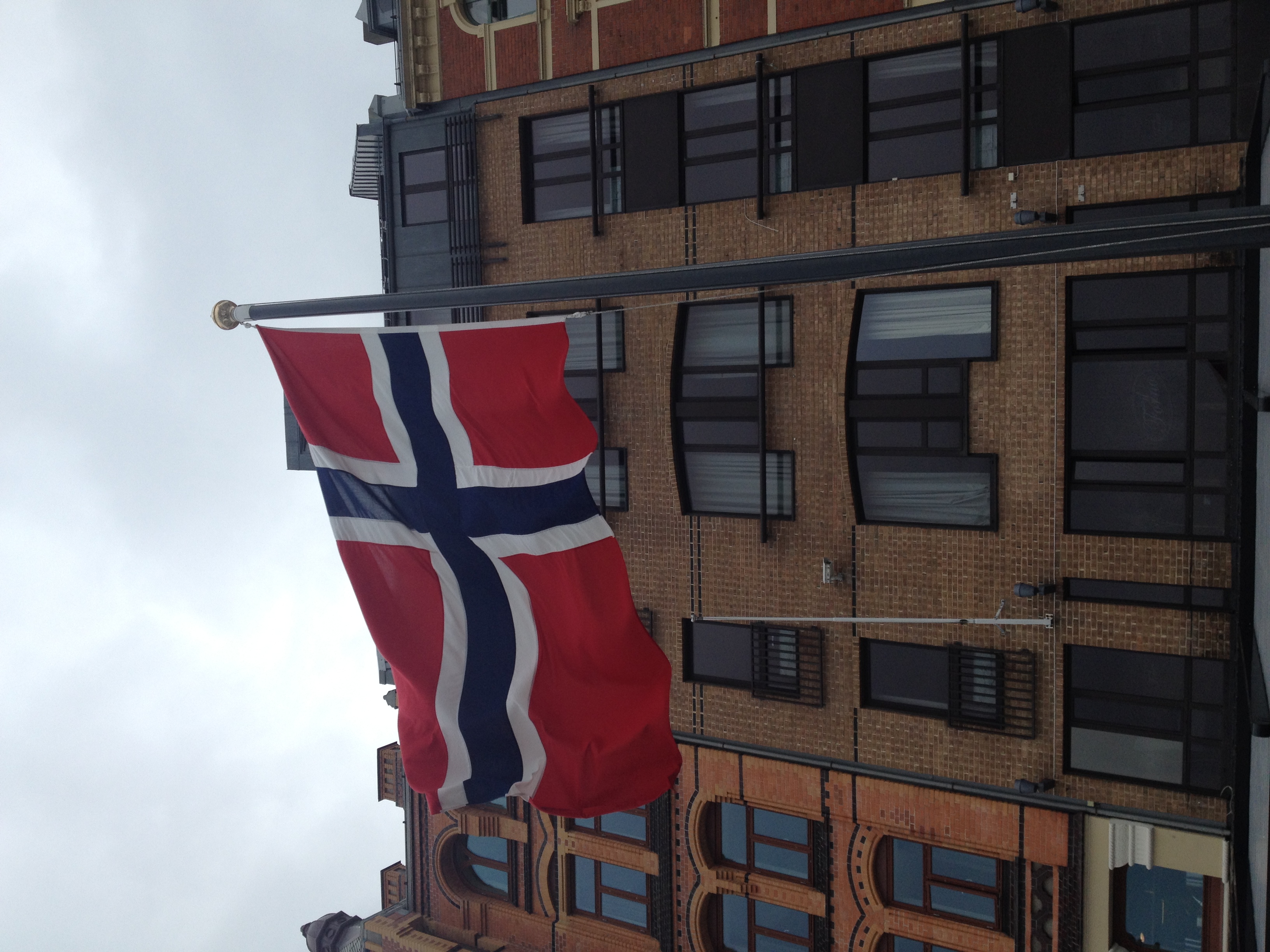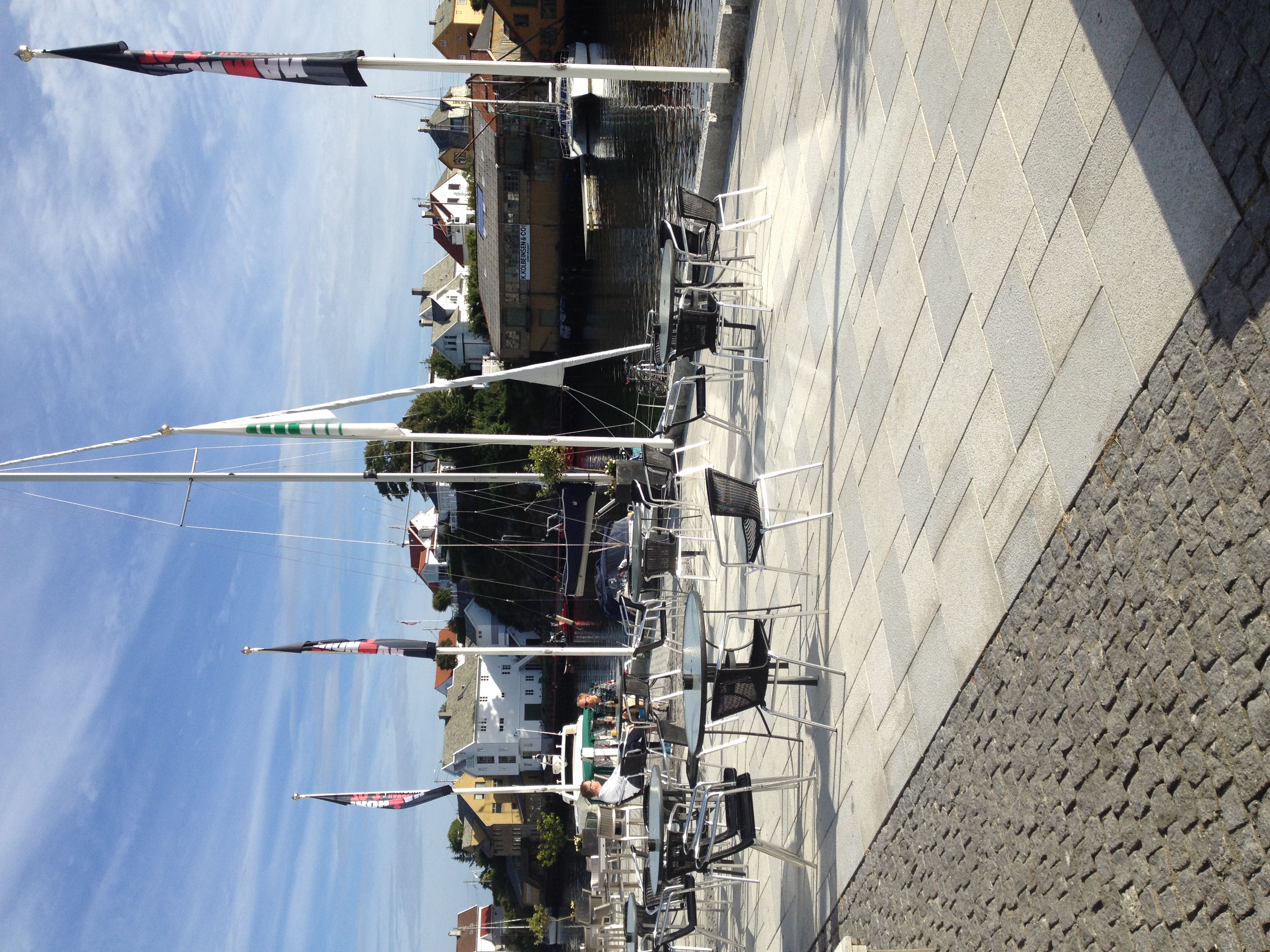 The Race Course & Weather Conditions
In the 2 days before the race, we took the time to check out the course. We didn't get the chance to ride or drive the bike course, but we did scope out parts of the run course. We also went for a short swim on the course as well.
The Swim Course - 1.9km (single loop)
The swim course was beautiful and very easy to navigate: single 1.9km loop in a small lake meant it would be practically lane swimming, so navigation was not going to be tricky.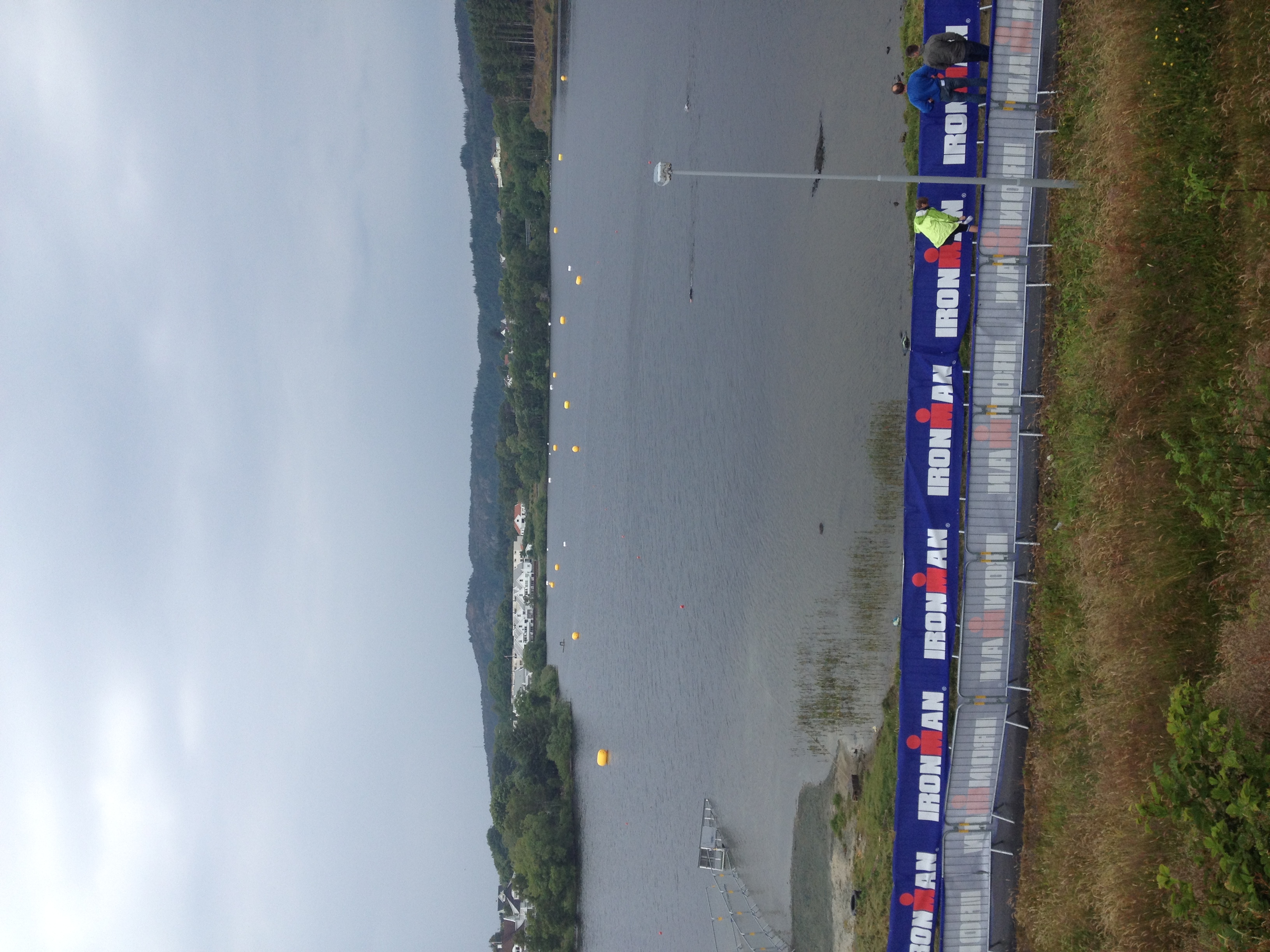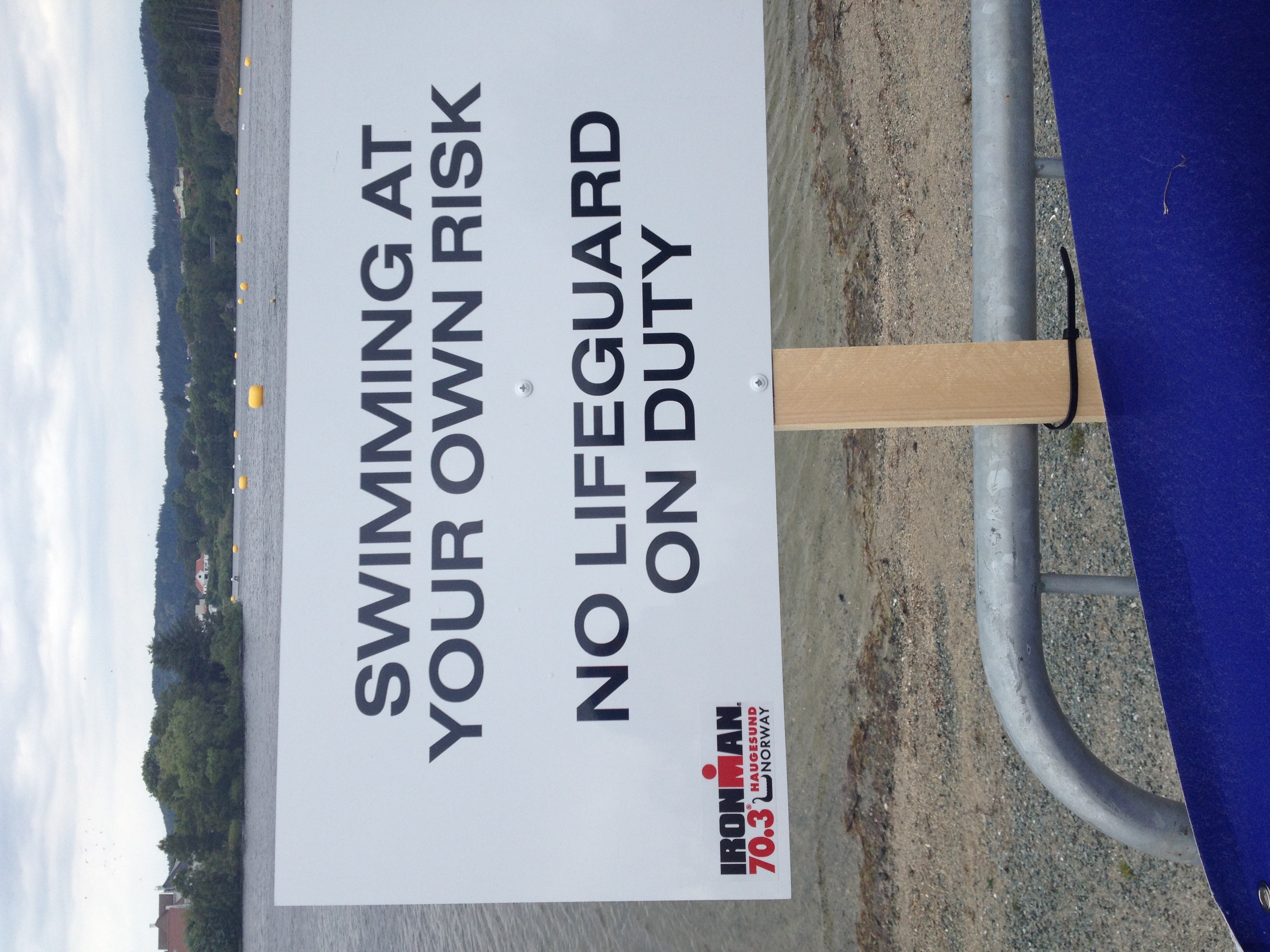 The water temp was hovering in the high teens, which was ideal for wetsuit swimming. What wasn't great was the fact that the ground beneath the water was very VERY silty. Any attempt at wading in meant sinking halfway up your shins in silt. There was also tall grass growing on the lake bed, which also meant that the first 50m of swimming would include getting smashed in the face by these strange aquatic plants! Oh, and visibility was virtually non-existent...
All part of the package though!
The Bike Course - 90km (single loop)
When I first chose this race, I took a look at the profile of the bike course on the official website. As you can see from the pic below, it looked "bumpy" but not "hilly". As a "bulkier" athlete, I'm strong on the flats, but not great on the hills... so I was reasonably happy with how the course looked... on paper that is...
Nevertheless, I was really looking forward to it. The course is known for its spectacular scenery, with country roads, many beautiful fjords, occasional sighting of wildlife, etc.
The day before the race, we attended the official race briefing, where they took us through the course, rules, etc. All standard stuff which I've heard multiple times... There was one thing the race official said which caught my attention: "if you think the bike course is flat you're mistaken".
There goes my chance for a fast bike split!
The Run Course - 21.1km (2 loops)
The run course was a 2-loop affair, with a big part of it going through the centre of town. This also meant that we would pass each other 3 or 4 times during the race, which is great for boosting morale.
The 2 things which were somewhat concerning were that (i) the run course was also hilly, with 2 nasty short and sharp hills at the beginning and end of each loop, and (ii) a good portion was on cobblestones, not an ideal running surface when running a half marathon after 90km of hilly biking!
The Race Plan
The Swim
It's the discipline I was least confident about. Swim fitness is all about consistency, and I've been far from consistent with swimming over the past year. Swimming is logistically more difficult than biking or running, especially if you don't have a decent pool next to your home or office.
Nevertheless, I was confident I could hold a 2min/100m pace for the swim and come out in around 38min.
My plan was to position myself about 1/3 of the way from the front, go hard at the beginning to try to catch a decent pack and stick with it all around the course. Simples....
The Bike
I've been training and racing with a power meter for around 8 months now, and I knew exactly what I wanted to do.
All the research done by the people at TrainingPeaks and various coaches is very clear: to have a good run off the bike in a half-ironman event, you'll need to complete the 90km with a total TSS of 160-180.
(TSS means Training Stress Score. It's a function of how much power you're producing and for how long).
Using various formulas which I won't bore you with, I knew I had to hold an effort of around 80% of my threshold power for 90km. Simple on a flat course, but I wasn't sure how I would fare on a rolling course.
The secret to having fresh legs off the bike is to produce "steady power" throughout, with the least number of "spikes". So my plan was to maintain stable power on all sections: so no going nuts on the uphills and coasting the downhills... I was especially cognizant of that given that I've had 0 hill training over the past year...
The Run
The run was a question of survival. I knew I had it in me to run sub-2 hrs, I just didn't know how that would pan out given the rolling nature of the bike and run courses...
My plan was to start off around 6min/km for the first km, then up the pace and keep it steady below 6min/km, with a target run time of less than 2hrs.
Race Nutrition
As those who've been following my blog over the past year already know, I switched to a low carb high fat diet at the beginning of the year in an attempt to become more fat adapted (teach my body to burn stored bodyfat as fuel instead of relying on gels and sports drinks).
My first racing experience while partially fat adapted was the Abu Dhabi Triathlon in March of this year. You can read more about that experience here. I continued fat adapting in the months leading up to this race, and I was confident that I could go through the race on no carbs at all.
Of course this didn't mean "no fuel". I wanted my body to continue tapping into fatty acids throughout the entire event, so I supplemented with a little bit of fats from Chia seeds (full protocol below).
I had tested this strategy in training: I did multiple 3-hour bike rides at race pace followed by runs and felt absolutely fine.
My race-day nutrition protocol for Haugesund 70.3
Breakfast
Bulletproof coffee 2 hours before race start
4g amino acids
Bike Nutrition
3tbsp of Chia seeds soaked in water & lemon juice overnight (source of fat)
2g amino acids / hour
Run Nutrition
3tbsp of Chia seeds soaked in water & lemon juice overnight (source of fat)
2g amino acids / hour
This plan had some mistakes which I wasn't aware of at the time, and which would make life difficult for me during the second half of the race...
The Race!! Ironman 70.3 Haugesund
Pre-Race
We woke up on race morning to a very pleasant surprise: the flags outside our hotel were dead still: no wind!! The wind had been relentless ever since we had arrived in Norway, and we were sure we would have to contend with it on race day. So seeing those flags still in the morning was a great boost of confidence.
I had my bulletproof coffee and amino acids, then went for a 10min jog outside, followed by 10min of swim simulation using swim cords. I made the routine morning pitstop, got my kit ready and headed down to take the shuttle to the race venue (the race organizers had shuttles picking up athletes from all hotels every 15min on race morning).
When I arrived to the race venue, I asked about the temperature: air temp was 8C and water temp was a comfy 18C. I race better in cold conditions, so I didn't mind the single digits...
When I got to the transition area, I realized my first mistake: all of our bikes were already in transition since the night before, and because of the wind, the volunteers couldn't put any rain covers on them. This meant that my bike was soaking wet from the rain. That's not the problem (I was going to get on my bike after swimming anyway). The problem was that the "inside" of my X-Lab Stealth Pocket was wet, and the amino acids I had in there had turned into a useless clump. Oh well... nothing I could do about that now...
I put my wetsuit on, put the final touches on my equipment, and headed down to the race start.
I got to the start around 15min before the start time for my wave, so I decided to do a short warmup swim in a designated area of the lake next to the start area.
I normally race without a watch, so I must have misjudged the time. When the announcer said "Wave 4, 5min to start" I was still 100m away from the beach. I frantically swam back, struggled hard to climb up the embankment, and reach the "back" of Wave 4 just as the gun went off!!
The Swim - 39:49 (official time)
The swim felt "easy". My biggest problem was that I started right at the back of 400 other athletes (I know, I was late, my fault). I counted 32 seconds from the time of the gun going off till I was able to start swimming!
This also meant that I could never really get any "clean water" to swim in. I was constantly catching people, swerving around them, or stopping to find a gap to go through.
Oh, and I don't know if the breaststroke is a national sport in Norway, but I have NEVER seen so many people swimming breaststroke in any triathlon! This meant I was getting kicked often while passing others, including a couple of "well aimed" kicks to some sensitive areas...
The swim went by quickly anyway, and soon enough I got to the swim exit... only to get stuck in traffic! I'm not joking: due to the steep embankment, they had a cattle ramp set up for swimmers to climb through to get out. It only fit 1 person at a time, so when I got there, I was literally standing in line waiting for my turn to get out. I counted 47 seconds there!
So I'm confident I swam sub 2min/100m outside of the late start, traffic and cattle ramp! I'm happy with that, considering...
I had a reasonably quick transition: there were wetsuit strippers waiting in transition. I threw myself on the grass and seconds later the wetsuit was off, I grabbed my "bike bag", grabbed what I needed, put my swim gear in there and ran to my bike.
The Bike - 2:51 (official time)
Following the race briefing the previous day, I knew I was in for a "rolling' course. So my eyes were going to be fixed on my Garmin, keeping my power numbers in check and aiming for a TSS of 170.
I won't go through the course km by km, but here are the highlights:
One word: SPECTACULAR!!!
Not a single bit of flat road, not even 50m. The entire ride was either UP or DOWN
I changed more gears in one race than all of my other races combined! probably...
No rain for the first 75km, which was great! A bit of rain towards the end, but nothing that affected me
No wind to speak of really - picked up a bit towards the end
Kept power steady on both uphills and downhills (or so I thought...)
Stayed in the big chainring for most of it, except the last 3km-long nasty hill at the 80km-mark
It was a bit difficult to stay "on the power" during the descents: most of the course was on narrow country roads, making it difficult to overtake cyclists "coasting" the downhills. So I certainly lost some time there
The last 5km were super slow: we were in town, going over tracks, through narrow roads, many other cyclists, etc... it was pretty slow going, but good to refresh the legs before the half marathon
Nutrition: water and my Chia slurry mix
The first mistake I realized that this: while I was able to stay in "fat burning mode" during race simulations in Dubai on the "flats", I was "dipping into my glycogen reserves often in the hills of Norway". I didn't realize it during the bike, but by the time I got to the run, I was running on "empty".
Anyway... I got back to transition, dropped off my bike, quick change into my running shoes and off I went.
The Run - 2:24 (official time)
The first 500m of the run are all downhill. This may sound great, but that's really terrible on your tired legs. The pounding your legs take from running downhill saps your energy. The downhill section ends and the cobblestones begin. The cobblestones end and a nasty sharp hill begins... And so it continues :-)
BUT!! The support on the run course is amazing. There were people 3-4 deep on the cobblestones section (which also houses the Finish area). There were families with their kids and pets on the side of the road for the entire run course. They were shouting, waiving flags, singing... It was from them that I picked up the only Norwegian word I know: "Hey Yah!"
Ok, about my run. I felt fine for the first 2km, but then I started to feel symptoms of hypoglycemia (low blood sugar). I figured that those hills on the bike expended all of my glycogen reserves, and that I needed to get some carbs in asap.
I ditched my chia seeds and started grabbing bananas from every aid station (around 3km apart each). It wasn't easy getting bananas down while running, but I tried.
I saw Megan on the run course and she was running like a metronome, which put a massive smile on my face!
I was struggling for most of the run, but I pushed on, and the weather was fantastic.
I had no idea what race time I was on, and whether I would go under 6 hours or not... Nevertheless, I tried to "floor" it in the last 2km. It took everything out of me as the last 2km include going up and then down a hill and running to the finish on the cobblestones again. But the crowds lifted me and I ran through the finish chute.
Finish - 6:03:29
I actually didn't know my race time at the time. I'm not sure if I could have run faster had I known that I was so close to going under 6hrs... I only found out what my time was when I got to my phone in the athletes' area after finishing.
Nevertheless, I was reasonably happy with my race given my level of preparation, the race course and conditions...
But most of all, I was proud. Proud of Tansy and Megan for finishing their first half-Ironman while juggling family obligations and very demanding careers. They did the training, took the rest, adopted the right nutrition and mindset, and achieved something less than 1% of the population can even dream of achieving. Ladies, you both made this trip worthwhile for me!
Lessons Learned
While I had a reasonably good race, there are always errors or misjudgments which could have impacted my race significantly. Here are my thoughts on what I would do differently if I were to re-do the same race:
Nutrition
I would definitely include some low Insulin Index carbs on the bike and perhaps on the run. The "go to" carb for well fat-adapted athletes would be resistant starches, in the form of Superstarch or, if you're a fan of "real food" instead of processed nutrition: rice cakes a la Feedzone Portables.
I've actually experimented with home-made ricecakes in race simulations and they worked well. It will take a few seconds longer to stuff them in your jersey pocket in Transition, but they're easy on the stomach and give you that little extra slow-release glucose.
By the way, cooked and cooled rice has a much higher "resistant starch" content vs. warm rice. This means it has a much lower impact on blood glucose and insulin, and doesn't "spike" your blood sugar like a gel or sports drink. If your stomach can handle it, it's a much better bet than processed nutrition.
Race Execution
Well, I wouldn't be late to the swim start for one! That alone would have saved me 1 min or 2!
I would scope out the bike course in more detail: not because of the hills, but I would have known that I couldn't make up time on the descents due to narrow country roads and bike traffic, so I would have been a bit more aggressive on the hills
Also, combining a higher carb intake and a stronger effort on the bike, I believe I would have had a better race overall
Post-Race - Enjoying Norway
After the race, Tansy and I stayed over for an extra day to enjoy what this part of Norway had to offer. We visited a World Water II museum (my personal obsession), and a spectacular waterfall more than 400m high!
Here are some photos from that day.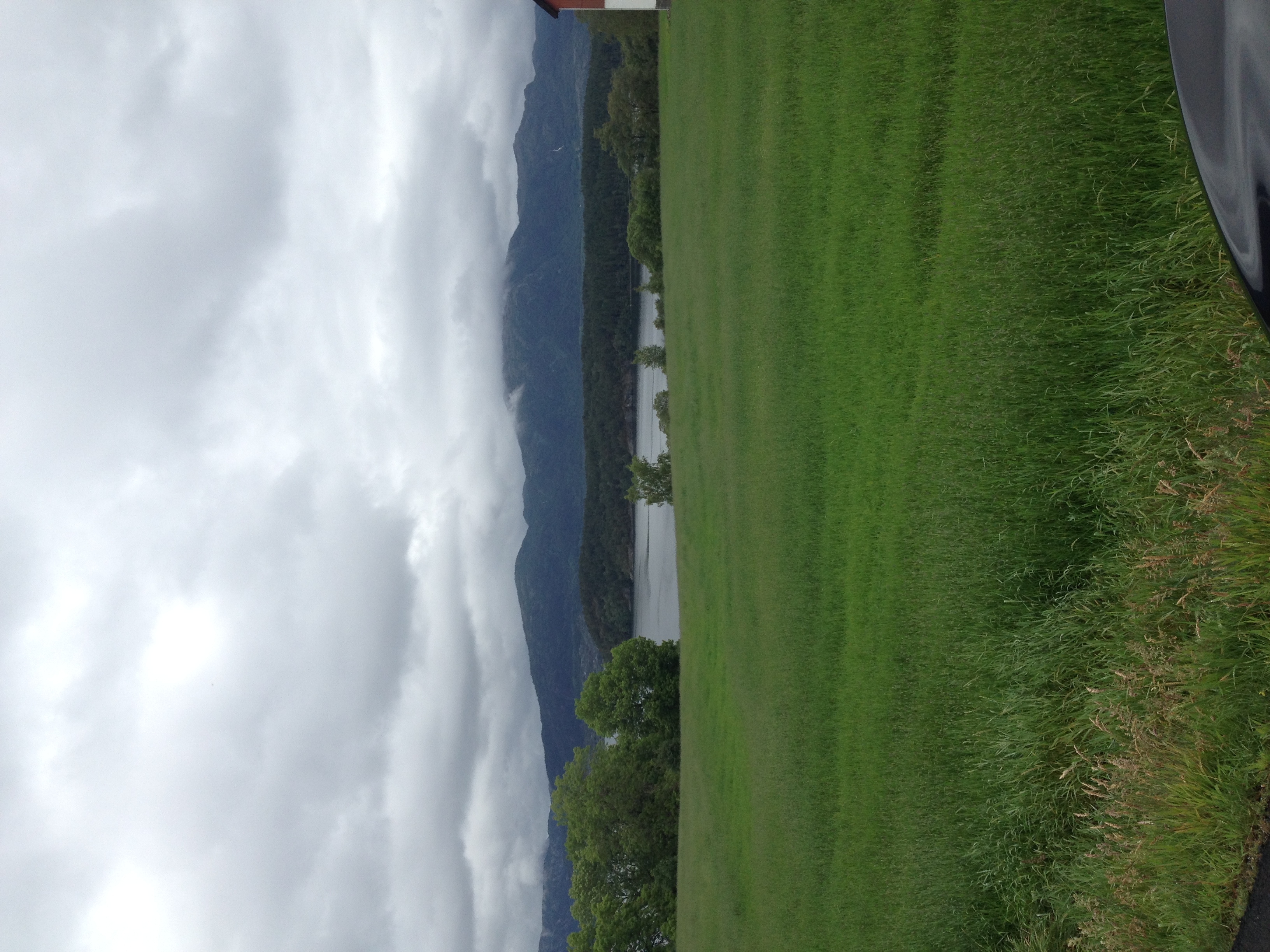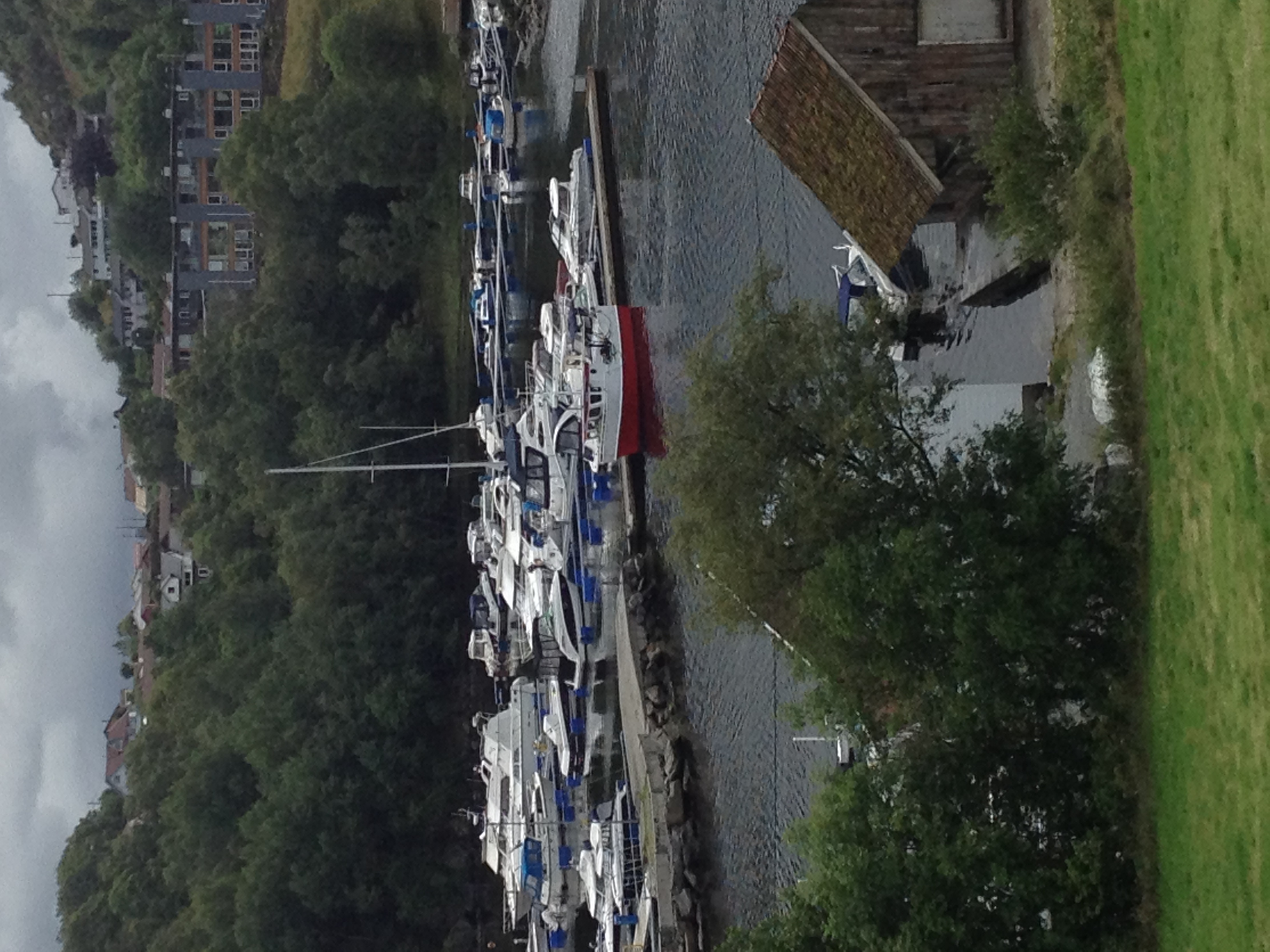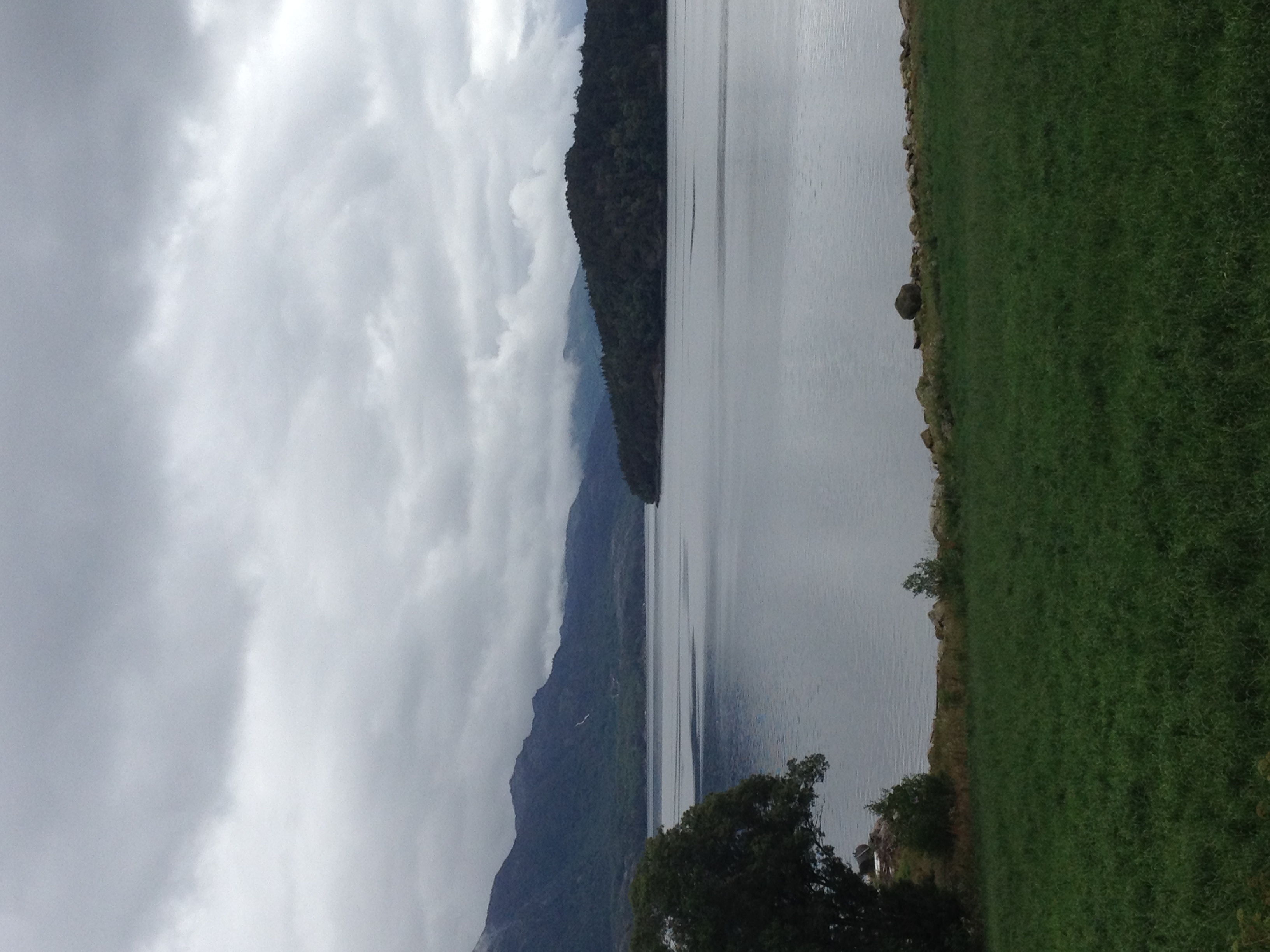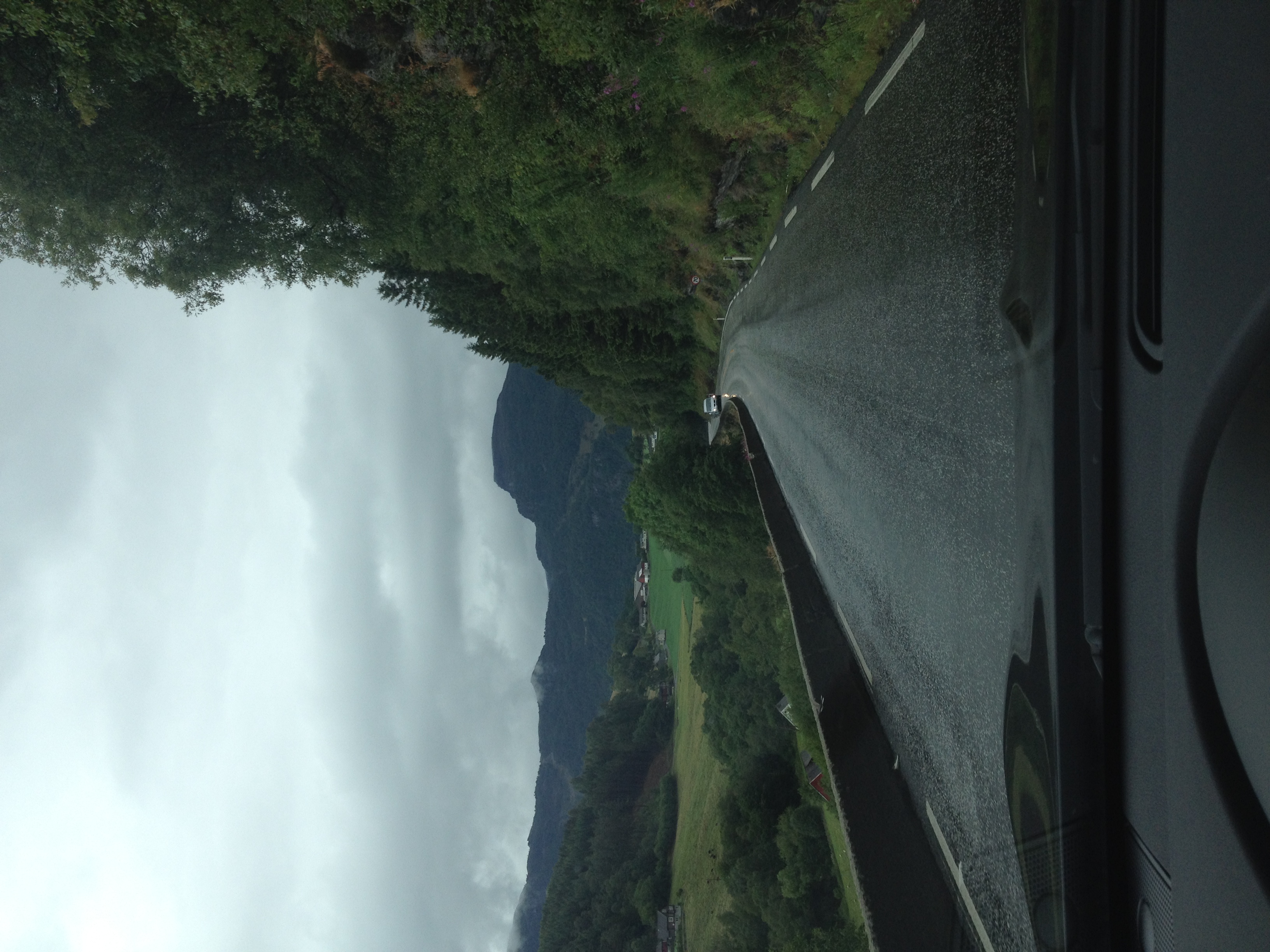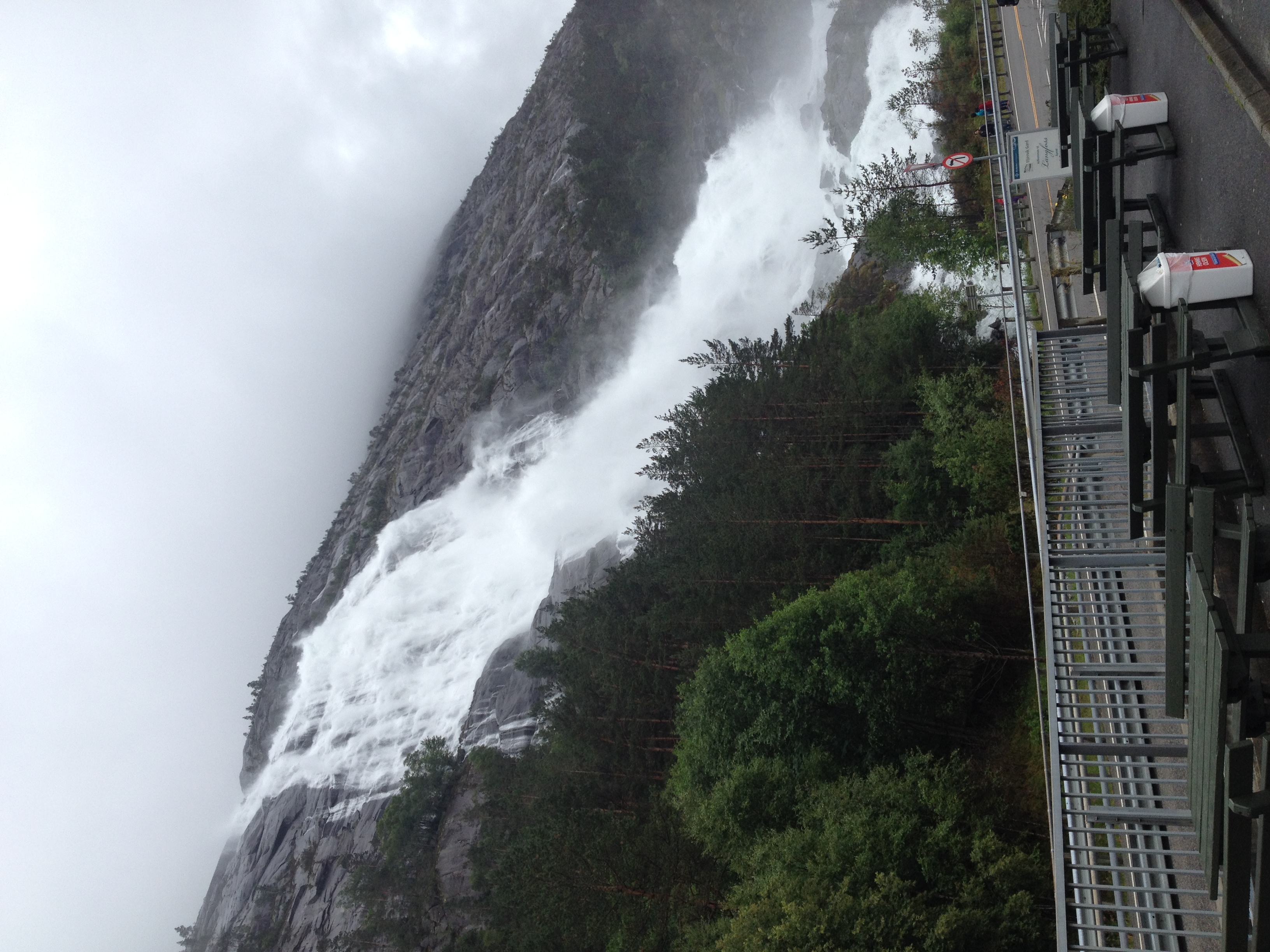 Detailed Race Analysis (Bike Only)
Stats from the 90km Bike
Time: 2:51:03
Distance: 90.1km
Avg Speed: 31.6km/h
TSS: 170.1
IF: 0.78
Variability Index: 1.09
Meters Climbed: 812m
Avg HR: 156
Avg temp: 12C
What does all this mean?
As I mentioned, my plan was to ride "steady". Control the power on the up-hill sections and stay on the power on the downhill sections. The reality of course turned out to be different. While I was able to maintain reasonable control on the power on the inline sections, I couldn't maintain any power on the descends. Plus, the fact that the slope was constantly changing with lots of twists and turn, this meant that my overall ride was far from "steady".
This is clearly indicated by the VI of 1.09. In triathlon you want to keep your VI below 1.05 if you're keen on having decently fresh legs for the run.
This is further illustrated by my power distribution, shown below.
As you can see from the chart: I spent 25% of my time at Zone 4 (threshold-level effort) or higher! Add to that 10min in total spent at 0 power on the descents (due to traffic), and no wonder my VI was so high...
This will give you an idea of the bike profile (from my Garmin), and why it was tricky to maintain stable power:
So while I was able to keep my TSS to 170 (smack on target), the 25% of the time I spent at Zone 4 or higher had eaten into my glycogen reserves, which I desperately needed given the hilly nature of the run as well...
So again, how could I have managed power better? I'm not sure I would do something completely different if I were to take another shot at this. Even if I were to hold back a little more on the uphills, I would have gone slower overall because I couldn't make up time on the downhill sections, and I don't think the impact on my run would have been THAT significant.
A better strategy for these types of courses may be to go hard, but ensure that your nutrition strategy fits the racing strategy: fuel with carbs and race hard, or fuel with own bodyfat and race steady...
What' next on the calendar? Not sure yet. Lots of moving pieces on the personal front. Will probably do local races and take my time to chose the next international race...